Ecobulk® SX
New Specialty Antistatic IBC's and Totes
The new ECOBULK® SX is designed to meet the requirements of special applications.
Electro conductivity
UV sensitive filling products
Fire protection
The ECOBULK® SX features an electrical conductive steel jacket which completely surrounds the PE-HD inner receptacle. This results in a surface resistance of (104 Ohm, i.e. no electrical charge of the outer case occurs. Charges on outer side of the inner receptacle are carried off over the steel jacket case
Therefore the ECOBULK® SX can be used in explosion endangerd operational premises classified in Zone 1 and Zone 2. The ECOBULK® SX provides optimum protection for the UV sensitive filling products through the all-round metal jacket. The SX also provides fire protection due to the jacket and the standard metal discharge cover.
Inner container:
High molecular weight, high-density polyethylene, extrusion blow molded, specially shaped to ensure complete discharge of contents.
The ECOBULK SX is equipped with a metal discharge cover
Outer Container:
Rigid, welded galvanized tubular steel grid with additional galvanized steel sheet jacket to protect PE-inner container
Bolted tiebars on top.
Pallet:
Steel pallet, 4 way entry
Filling opening:
DN 150 with screw cap and 'O'-ring seal.
Discharge valve:
Protectively placed butterfly valve DN 50 with blue handle – Outlet sealed by aluminum-lined PE-foil, closed by 'O'-ring, PE-disk and screw cap. On request butterfly valves DN80/150 or ball valves DN50 are available.
Permeation protection:
On request the inner PE-container can be treated with a double SMP fluorination barrier which reduces the permeation of most non-polar organic solvents. The reasons for changing to a larger container are both logical and simple. Your in-house costs are lowered due to:

Reduction in time for filling, sealing, labeling.
Space saving during transport and storage periods.
Eliminating product waste while discharging and draining containers.
Easier inventory control.
Multiple use. Containers may be filled, transported and discharged many times during their useful life.
The built-in ability of the ECOBULK® to be reconditioned.
The ECOBULK® is really a space saving innovation. 4 drums each with a volume of 200 liters, utilize more space than a 1000 liter ECOBULK®. A minimum of 35% better space utilization.
The ECOBULK® meets international transport standards and regulations as well as providing an excellent fill in ISO-Containers. The low tare weight is a further financial benefit during transport.
The ECOBULK® is easy to handle and can be stacked to as many as 4 high in the warehouse and 2 high for transport quite safely. It is easy to load or unload by use of fork-lift or pallet truck, thus ensuring the best use of time and resources.
The specially designed discharge valves ensure precise control when discharging substances of various viscosities. The different types of seal materials extend the range of applications and offer resistance to nearly all chemical products.
In today's world, one of the most important considerations affecting packaging systems selection is its value and usage after the initial journey.
With the TICKET SERVICE, a recycling process is available for used ECOBULKS® which guarantees collection and a sensible utilization of emptied containers
The ECOBULK® offers the ideal module system incorporating easy-to-fit exchangeable steel, timber or plastic components, making the ECOBULK® a fully re-usable multi-trip package.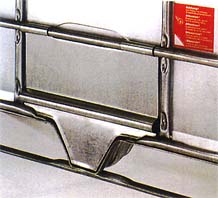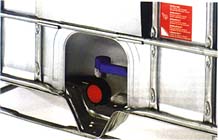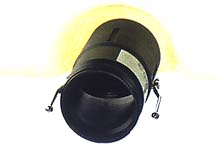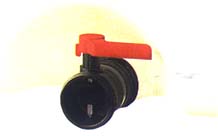 Contact us to have a NPS representative speak with you about your IBC needs.
Request a Quote